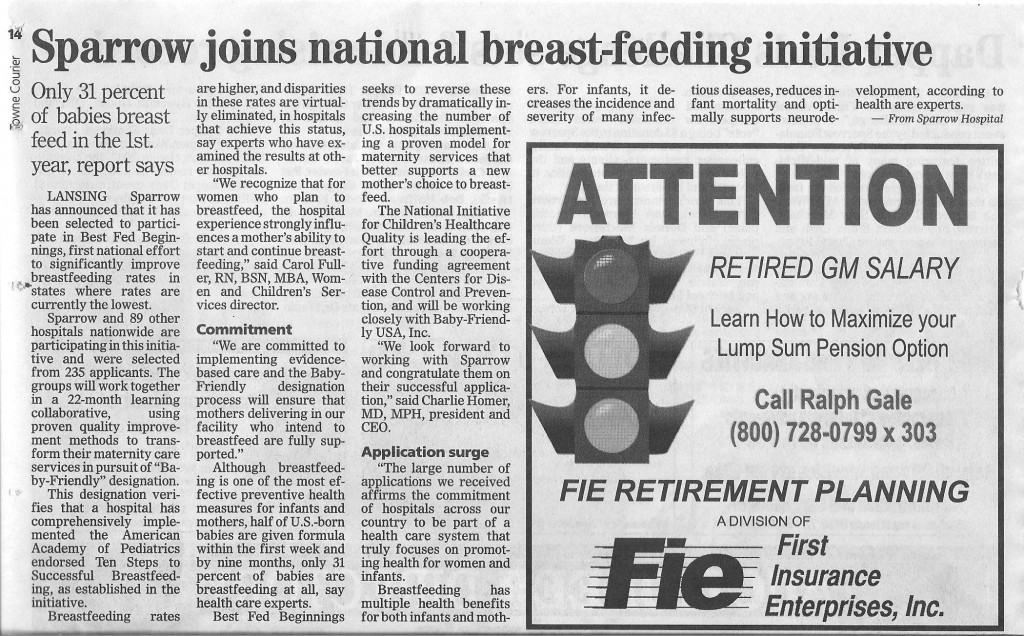 Michigan Hospitals Receive Best Fed Beginnings Grants
Congratulations to the following hospitals, selected to participate in the Best Fed Beginnings initiative to improve their maternity care services in pursuit of "Baby-Friendly" designation! Allegiance Health System, Jackson, MI
Covenant HealthCare, Saginaw, MI
Henry Ford West Bloomfield Hospital, West Bloomfield, MI
Providence Park-Novi, Novi, MI
Providence Hospital: Southfield, Southfield, MI
Sparrow Hospital, Lansing, MI
Spectrum Health Butterworth Hospital, Grand Rapids, MI
St. John Macomb Hospital, Warren, MI
St. Joseph Mercy Oakland, Pontiac, MI
http://www.nichq.org/who_we_are/in_the_news.html?id=80
First Baby Friendly Hospital in Michigan! 
William Beaumont Hospital in Grosse Pointe, is currently the only hospital in the state designated as "Baby Friendly" by the group Baby-Friendly USA. Baby-Friendly, which is sponsored by the World Health Organization and United Nations Children's Fund, recognizes hospitals that provide a high level of care and education for breastfeeding mothers and their babies.
Beaumont Grosse Pointe supports breastfeeding through "The Ten Steps to Successful Breastfeeding for Hospitals," as outlined by UNICEF and WHO.
The steps include: following a policy that is routinely communicated, educating expecting mothers about breastfeeding, helping initiate breastfeeding within one hour of birth and teaching women how to maintain lactation. The Ten Steps encourage breastfeeding on demand and "rooming in" – to allow mothers and babies to remain together, as well as referring mothers to breastfeeding support upon discharge.
Unless medically indicated, no food, drink (other than breast milk) or artificial nipples are to be given to breastfeeding infants.
See the release:
http://detroit.cbslocal.com/2012/04/16/michigan-hospital-designated-baby-friendly/
If you know of other Michigan hospitals that are Baby-Friendly, please contact this website to post the information.  Thanks!